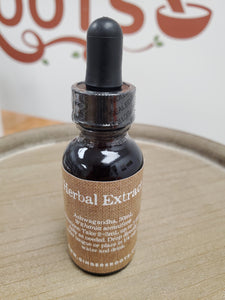 Ashwagandha,
Withania somnifera
, supports the nervous system and helps aid against anxiety, depression, exhaustion, and poor muscle tone. It is an adaptogenic herb and reduces the effects of stress while promoting energy and vitality. It is used as a supporting herb for recovery from debilitating diseases. It is effective for treating sexual dysfunction caused by stress. It is also an effective anti-inflammatory that can relieve symptoms associated with arthritis pain. The nervine herb also helps to increase the conversion of T4 to T3. 
Suggested Use: As a dietary supplement, take 2-3 mL (2-3 full droppers) up to 3 times per day as needed (unless otherwise directed) in a small amount of water, or drop under the tongue.  Use cautiously during pregnancy. Contraindicated in those with sensitivity to the nightshade family. 
Ingredients: Ashwagandha, pure alcohol, distilled water.
Warnings:
Keep out of reach of children. 
Th
ese
 statements have not been evaluated by the Food and Drug Administration. This product is not intended to diagnose, treat, cure, or prevent any disease. For educational purposes only.
*Not available to ship internationally.