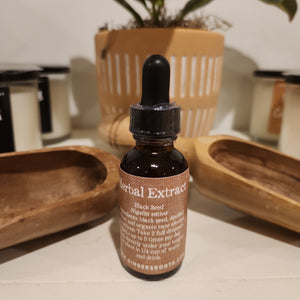 Black seed, nigella sativa, is a powerful anti-inflammatory that has shown promise in aiding against some of the most common health conditions. It also shows strong antifungal activity against yeast overgrowth. Examples of  black seed health benefits include:

Reducing

 high blood pressure. 

Reducing

 high cholesterol. 

Improving

 rheumatoid arthritis symptoms. 

Decreasing asthma symptoms. 

 

Reducing stomach upset.
Black seed is also thought to have anticancer properties.
Suggested Use:

 

As a dietary supplement, take 2 ml (2 full droppers) up to three times a day (unless otherwise directed) in a small amount of water, or drop directly under the tongue.  
Ingredients:
 Black seed,
organic cane
alcohol, and distilled water.
Warnings:
Keep out of reach of children. Use cautiously during pregnancy and while breastfeeding. 
Th
ese
 statements have not been evaluated by the Food and Drug Administration. This product is not intended to diagnose, treat, cure, or prevent any disease. For educational purposes only.
*Not available to ship internationally.