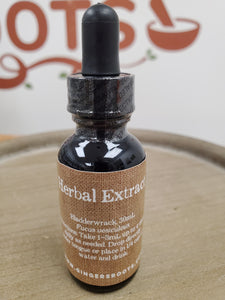 Bladderwrack, Fucus vesiculosus, is a seaweed. It contains iodine, alginic acid, and fucoidan. Iodine is an essential mineral for the thyroid, uterus, breasts, and prostate. Alginic acid is a special type of fiber that can help with acid reflux and acts as a mild appetite suppressant. Fucoidan is a compound shown to reduce inflammation and improve arthritis, diabetes, and other inflammatory conditions. Fucoidan is known to have a variety of antitumor and antiangiogenic properties.
Not for use with hyperthyroidism or Grave's disease. Use cautiously with Hashimoto's thyroiditis and during pregnancy.
Suggested Use: As a dietary supplement, take 1-3 mL (1-3 full droppers) up to 4 times per day as needed (unless otherwise directed) in a small amount of water, or drop under the tongue.  
Ingredients: Bladderwrack, pure alcohol, distilled water.
Warnings:
Keep out of reach of children. 
Th
ese
 statements have not been evaluated by the Food and Drug Administration. This product is not intended to diagnose, treat, cure, or prevent any disease. For educational purposes only.
*Not available to ship internationally.