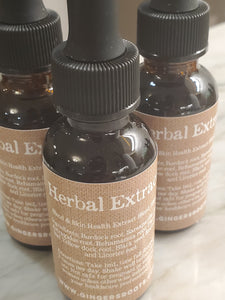 A unique blend of blood cleansing, blood building, and lymph-moving herbs that work together to clear the blood of toxin overload and produce glowing skin. Ideal for individuals dealing with chronic skin infections and inflammations of the skin. 
Ingredients: Arctium lappa (burdock root), Ceanothus americanus (red root), Smilax ornata-regelii (sarsaparilla root), Plantago major/lanceolata (plantain leaf), Rehamannia glutinosa (rehmannia root), Nigella sativa (black seed), Rumex crispus (yellow dock root),  Glycyrrhiza glabra (licorice root), distilled water, organic cane alcohol (35-40%)
Suggested Use: As a dietary supplement, take 1ml three (3) times a day (unless otherwise directed) in a small amount of water.  Shake well. Safe for long-term use. 
Warnings: Keep out of reach of children. Do not use if pregnant or breastfeeding. 
Th
ese
 statements have not been evaluated by the Food and Drug Administration. This product is not intended to diagnose, treat, cure, or prevent any disease. For educational purposes only.