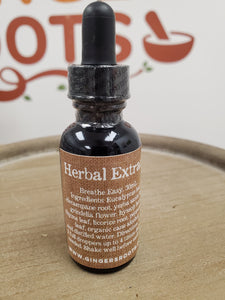 A blend of aromatic herbs containing antibacterial and antiviral properties to reduce congestion and support the respiratory system.

Ingredients: Eucalyptus globulus (eucalyptus leaf), Inula helenium (elecampane root), Eriodictyon californicum (yerba santa leaf), Grindelia spp. (grindelia flower), Hyssopus officinalis (hyssop herb), Thymus vulgaris (thyme leaf), Glycyrrhiza glabra (licorice root), Mentha piperita (peppermint leaf), distilled water, and organic cane alcohol (50-55%).
Suggested Use: As a dietary supplement, take 2ml up to four (4) times a day as needed (unless otherwise directed) in a small amount of water.  Shake well. Safe for ages 12 years old and older.  
Warnings: Keep out of reach of children. Do not use if pregnant or breastfeeding. 
Th
ese
 statements have not been evaluated by the Food and Drug Administration. This product is not intended to diagnose, treat, cure, or prevent any disease. For educational purposes only.