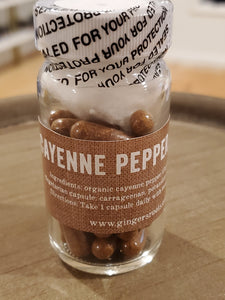 Cayenne pepper (Capsicum annuum) has been used as a food and by traditional herbalists for thousands of years. Capsaicin gives cayenne it's hot and spicy taste. Scientific studies have indicated that consumption of cayenne may help to support cardiovascular and digestive functions, and boost metabolism.
Features
475 mg per capsule
Made with premium quality Certified Organic Cayenne Pepper

 

Vegetarian/Vegan
No additives, fillers, or preservatives
Ingredients: Organic Cayenne Pepper (Capsicum annuum)
Vegetable Capsule Ingredients: carrageenan, potassium chloride and water.
Suggested use: Take 1 tablet daily with meals or water. 
Warning: Excessive dose may cause gastrointenstinal irritation or heartburn, or exacerbate gastroesophageal reflux. Cayenne preparations irritate the mucous membranes and injured or broken skin.
Keep out of reach of children.