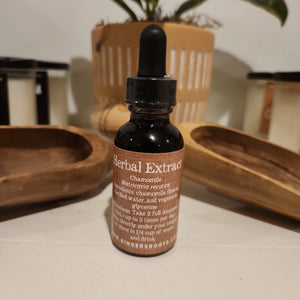 Chamomile, Matricaria recutita, is a mild sedative and a good gastric anti-inflammatory. It calms the nerves, settles the stomach, and helps to expel gas. Also useful for colds and flu. This is an excellent nervine agent, especially for children. Use it in combination with other nervines and anti-inflammatory agents for pain, swelling, and infection. 
Suggested Use:

 

As a dietary supplement, take 2 ml (2 full droppers) up to three times a day (unless otherwise directed) in a small amount of water, or drop directly under the tongue.  
Ingredients:
 Chamomile flower,
 vegetable glycerine
, and distilled water.
Warnings: Allergic reactions to chamomile are not common, but are more common than with many other herbs.
Th
ese
 statements have not been evaluated by the Food and Drug Administration. This product is not intended to diagnose, treat, cure, or prevent any disease. For educational purposes only.