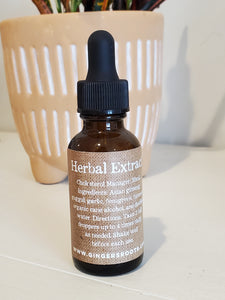 A blend of anti-inflammatory and anti-cholesterol herbs that work deep in the tissue to remove embedded plaque from artery walls. This formula will be a powerful complement to an anti-inflammatory diet and exercise program in support of an overall healthy cholesterol balance.
Ingredients: Guggul resin, turmeric root, garlic, fenugreek seed, Asian ginseng root, organic cane alcohol, and distilled water. 
Directions: Take 2 full droppers up to 4 times a day as needed. Shake well before each use. You can drop directly on the tongue or add to a small 1oz cup of water and drink. 
Warning: Adult use only. Do not use if pregnant, have an existing hyperthyroidism condition, or are using blood thinners. Keep out of reach of children. The product contains turmeric which can stain clothes and surfaces. Please use caution when consuming. 
These statements have not been evaluated by the Food and Drug Administration. This product is not intended to diagnose, treat, cure, or prevent any disease. For educational purposes only.