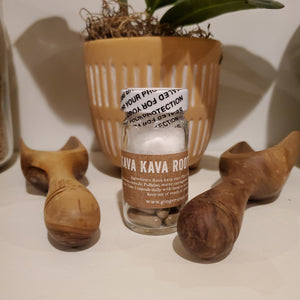 Kava kava (Piper methysticum) is a non-addictive medicinal South Pacific plant species belonging to the pepper family. For centuries, Pacific Islanders have used kava as a medicinal plant because of its sedative, anesthetic, euphoriant, and psychotropic properties. Studies show that the properties of kava can ease anxiety, relieve stress, relax muscle and nervous tension, and combat insomnia and improve sleep problems. 
Disclaimer: These statements have not been evaluated by the Food and Drug Administration. This product is not intended to diagnose, treat, cure or prevent any disease.
Features
Made with premium quality Kava Kava Root
410 mg per capsule

 

Vegetarian/Vegan
No additives, fillers, or preservatives
Processed, packaged and quality tested in the USA
Ingredients: Kava Kava Root (Piper methysticum)
Vegetable Capsule Ingredients: Pullulan, water, carrageenan, and potassium chloride
Suggested use: Take 1 tablet daily with meals or water. 
Warning: CAUTION: FDA advises that a potential risk of rare, but severe, liver injury may be associated with Kava kava. Consult a health care practitioner before use, and if taking any medications. Discontinue use if any adverse reactions occur. Not for use by persons under 18 years of age, with alcoholic beverages, or by pregnant or breastfeeding women. Excessive use, or use with products that cause drowsiness, may impair your ability to operate a vehicle or dangerous equipment.