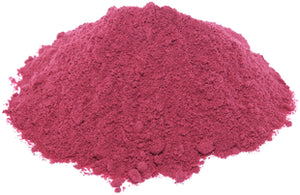 Beet Root, or Beta vulgaris rubra, is a nutritious vegetable that is rich in folate, magnesium, potassium, manganese, copper, and iron. Its nitrite content helps to lower blood pressure and enhance athletic performance. Studies have shown drinking beet juice may help people maintain lower blood sugar levels after eating. Beets may help people with obesity be more sensitive to insulin and reduce their blood sugar levels. 

Two teaspoons of beet root powder has similar nutritional value as a full serving of beets. 
Beet powder can be mixed with water to create a juice. It can also be added to smoothies, sauces, or baked goods. Beet powder is growing in popularity as a natural health-boosting supplement.