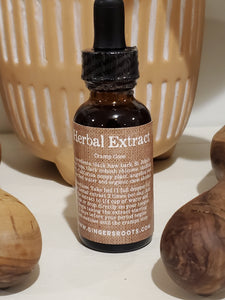 A powerful blend of anti-spasm and pain-relieving herbs to help against menstrual cramp pain. 
Ingredients: black haw bark, St. John's Wort tops, black cohosh rhizome, skullcap herb, California poppy plant, angelica root, distilled water, and organic cane alcohol. 
Directions: Take 1ml (1 full dropper) of liquid extract 3 times per day. And extract to 1/4 cup of water and drink or drop the extract directly on your tongue. Begin taking the extract 2 days before your period begins and continue until the cramps fully stop. Shake well before each use.