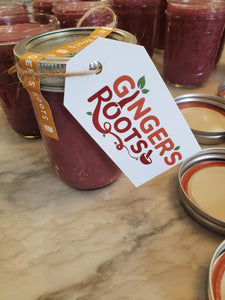 Elderberry (Sambucus nigra) is a fruit rich in vitamin C used widely throughout Europe and North America. As a centuries-old tradition, it has been used by herbalists as a tonic to maintain health and well-being. More recently, Elderberry has been recognized for its high nutritive value, especially for its potent free radical scavenging vitamins and anthocyanins. Rose hips (R. canina) are known for their health benefits as they pack a strong antioxidant punch. While rose hips are commonly known for their high vitamin C content (in fact, they contain 20 times the amount of vitamin C as an orange!), they also possess vitamin D and vitamin A. In addition to being used to ward off cold viruses and influenza, rose hips have been used to treat arthritis pain and to aid in the body's absorption of iron. Yarrow Leaf & Flower (Achillea milliflourium) is known to help with chest congestion, coughing, and fever. It helps to lower blood pressure and strengthen the heart and the blood vessels. It is antibiotic and supports the liver in cleansing the body of toxins.
Studies have shown that those who use Elderberry in some form 3-4 times a day after the onset of the flu notice a reduction in the severity of their symptoms and the length of their illness. 

Ingredients: European elderberries, rosehips, yarrow flower and leaf, honey, apple cider vinegar, cinnamon, garlic, cloves, and arrowroot flour. 
Suggested use: Adults take 1 to 2 teaspoons once daily for general immune support. For the onset of a cold or flu, take 1 to 2 teaspoons 4 times daily. For children 6 to 12 years old, take 1/2 to 1 teaspoon once daily. For children 1 to 5 years old, take 1/4 to 1/2 teaspoon once daily. Not for use for children under the age of 1 year old. 
Keep refrigerated for up to 12 weeks and then freeze or discard. 
Shake jar well before each use. 
Th
ese
 statements have not been evaluated by the Food and Drug Administration. This product is not intended to diagnose, treat, cure, or prevent any disease. For educational purposes only.