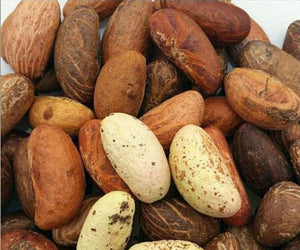 Bitter kola is an edible seed that has been used in African herbal medicine to aid against liver diseases, laryngitis, hoarseness of voice, cough, and diabetes and its associated complications. It has also been used as an aphrodisiac and fertility enhancement. The seed is known to suppress appetite and contribute to weight loss. Bitter kola has a historical use for pregnancy and is known to help against nausea and vomiting, making the uterus healthier, strengthening pregnant women, and normalizing blood circulation in pregnant women.
Bitter kola contains caffeine. One bean of bitter kola contains the same amount of caffeine as two glasses of coffee. 
Can be eaten raw or simmered to make tea.