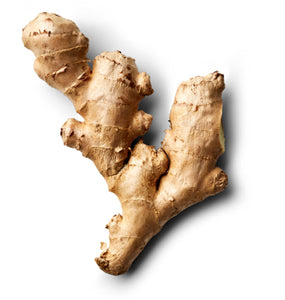 Ginger, Zingiber officinale, is a pungent aromatic herb. It is used to relieve nausea, vomiting, and motion sickness. Take capsules or the extract before traveling, to prevent motion sickness. It stimulates digestive secretions when taken with or after meals. Research indicates that ginger root enhances immune function, promotes the secretion of bile and gastric fluids, and increases blood circulation by inhibiting platelet aggregation. It is a potent anti-inflammatory, and studies show it is as effective as ibuprofen for reducing the pain and inflammation associated with arthritis. Fresh ginger is also a potent antiviral and antibacterial, helpful for treating influenza, the common cold, and both bacterial and viral gastroenteritis.
Some authors caution against use during pregnancy, but no adverse effects have been reported by women using ginger for morning sickness.
This can be taken as a tincture, glycerite, capsule, or powder.