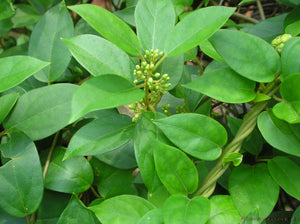 Gymnema, Gymnema Sylvestre, has been used by ayurvedic practitioners to treat type 2 diabetes for at least two thousand years. When it comes in contact with the tongue, Gymnema makes it impossible to taste sugar. It is believed that it not only blocks sweet receptors on the tongue but also slows the absorption of sugar in the digestive tract. Peer-reviewed studies now support the use of Gymnema as a treatment for high blood sugar.
Gymnema is generally regarded as safe.
This can be taken as a tincture, glycerite, or capsule.