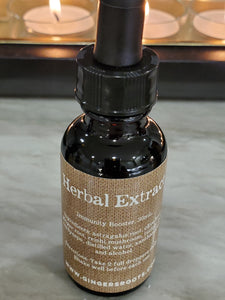 Rapidly boost your immune system with this blend of adaptogenic and immunomodulating herbs and mushroom extracts. This blend provides you with naturally antibacterial and antiviral properties. Use daily or at the first sign of a scratchy throat or sneeze to help support your body's immune response. 
Ingredients: Astragalus root, olive leaf, ginger root, reishi mushroom, turkey tail, cordyceps, distilled water, xanatham gum, organic cane alcohol (35-40%)
Suggested Use: Shake well before each use. Take 2 ml (2 full droppers) daily. You may place the drops directly on the tongue or place the drops in 1 oz of water and drink.
Warnings: Keep out of reach of children. Do not use if pregnant or breastfeeding. 
Th
ese
 statements have not been evaluated by the Food and Drug Administration. This product is not intended to diagnose, treat, cure, or prevent any disease. For educational purposes only.