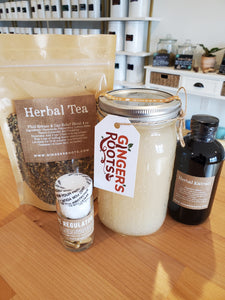 Do you have trouble with acid reflux, lazy digestion, excess gas and bloating and belching, or constipation? Our improved digestion bundle is a specially-selected lineup of herbal products designed to soothe an irritated gut, increase stomach fire to reduce acidic reactions in the body and reinvigorate the digestive process, relieve uncomfortable stomach bloat and trapped gas, and gently increase bowel movement. Together these products work to increase and expedite the removal of toxins from the body leaving you feeling refreshed with greater energy, glowing skin, and a smaller waistline. 
This package includes:
Sea Moss Gel, 32oz: T

his gel can be taken directly by mouth, blended into a smoothie, or dissolved into a cup of warm tea. 

Digestive Bitters, 8oz: Drop 1/4 teaspoon (1mL) on the tongue and swallow before each meal. 
Fluid Relief and Gas Release Tea, 4oz: Steep 2 teaspoons to 1 tablespoon in 1 cup of water in a covered teacup for 15 minutes. Drink 1 to 4 times daily as needed. 
The Regulator, 30 ct.: Take 1 capsule daily with meals or water. 
Warnings: Keep out of reach of children. Do not use if pregnant or breastfeeding.