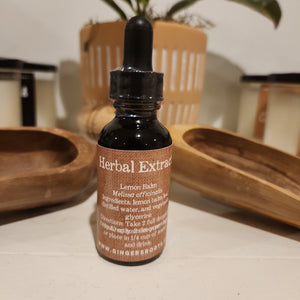 Lemon balm, Melissa officinalis, is aromatic with a lemony scent and has a mild astringent action. It is useful for many acute ailments such as colds, digestive upset, and flu. It is helpful for nervousness that affects the heart and digestion. It helps to ease sadness and depression, calm mania and hysteria, enhance sleep, and aid memory and concentration. 
Suggested Use:

 

As a dietary supplement, take 2 ml (2 full droppers) up to three times a day (unless otherwise directed) in a small amount of water, or drop directly under the tongue.  
Ingredients:
 Lemon balm,
 vegetable glycerine
, and distilled water.
Warnings: No known warnings. Safe for pregnant or nursing women. 
Th
ese
 statements have not been evaluated by the Food and Drug Administration. This product is not intended to diagnose, treat, cure, or prevent any disease. For educational purposes only.