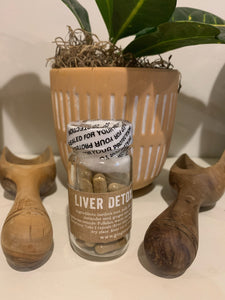 Liver problems can lead to unbalanced blood sugar levels, heart and kidney issues, weight gain, excessive bleeding, increasing pressure in the brain, and other metabolic disorders. Our liver detox formula is made of superior quality natural nutrients to support healthier liver marker functions and help protect against further damage. Each of the ingredients combats cellular liver damage.
Disclaimer: These statements have not been evaluated by the Food and Drug Administration. This product is not intended to diagnose, treat, cure or prevent any disease.
Features
475 mg per capsule
Made with premium quality herbs and botanicals, including many Certified Organic varieties

 

Vegetarian/Vegan
No additives, fillers, or preservatives
Ingredients: Organic burdock root, organic milk thistle seed, barberry root, organic coriander seed, organic ginger root, and organic bupleurum root.
Vegetable Capsule Ingredients: Pullulan, water, carrageenan, and potassium chloride.
Suggested use: Take 1 capsule three times daily with water for 10 days. 
Warning: Adult use only. Consult your physician prior to using this product if you are pregnant, nursing, taking medication, or have a medical condition. Discontinue use two weeks prior to surgery. Do not consume at the same time as any medicines or other dietary supplement, as this may interfere with their effectiveness. This product is not intended as treatment for accidental poisoning. Keep out of reach of children.