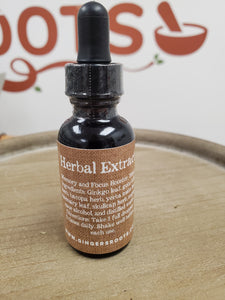 A combination of herbs designed to improve memory, attention, and cognitive speed. 
Ingredients: Ginkgo biloba (ginkgo leaf), Centella asiatica (gotu kola herb), Bacopa monnieri (bacopa herb), Ilex paraguariensis (yerba mate leaf), Rosmarinus officinalis (rosemary leaf), Scutellaria lateriflora (skullcap herb), distilled water, and organic cane alcohol (45-50%).
Suggested Use: As a dietary supplement, take 1ml three (3) times a day (unless otherwise directed) in a small amount of water.  Shake well. Safe for ages 12 years old and older.  
Warnings: Keep out of reach of children. Do not use if pregnant or breastfeeding. 
Th
ese
 statements have not been evaluated by the Food and Drug Administration. This product is not intended to diagnose, treat, cure, or prevent any disease. For educational purposes only.