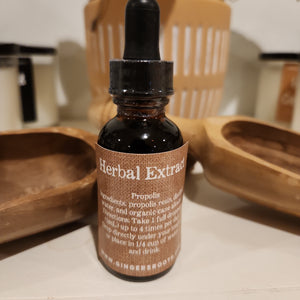 Propolis, also known as bee glue, is a resinous mixture that honey bees produce by combining their own saliva and beeswax with substances they collect from tree buds, sap flows, and other botanical sources. Propolis has numerous benefits including providing anti-tumor and anti-cancer properties, helping fight candida (yeast) infections, stopping cold sores and genital herpes from reproducing (HSV-1 or HSV-2), aiding against parasites, preventing colds and flu, and may help improve fertility among women with endometriosis. 
Suggested Use: As a dietary supplement, take 1 ml (1 full dropper) up to four times a day (unless otherwise directed) in a small amount of water, or drop directly under the tongue.  

Ingredients: Propolis, organic cane alcohol, and distilled water.
Warnings:
Keep out of reach of children. 
Th
ese
 statements have not been evaluated by the Food and Drug Administration. This product is not intended to diagnose, treat, cure, or prevent any disease. For educational purposes only.
*Not available to ship internationally.