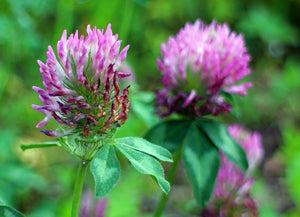 Red clover, Trifolium pratense, is a pleasant-tasting blood purifier that is used in combination with other blood purifiers for skin conditions, cancer, swollen lymph glands, and liver detoxification. Red clover contains phytoestrogens that block estrogen receptor sites, possibly inhibiting estrogen-dependent cancers.
Due to its phytoestrogen content, recommend avoiding taking red clover during pregnancy.
This can be taken as an infusion, tincture, or glycerite.