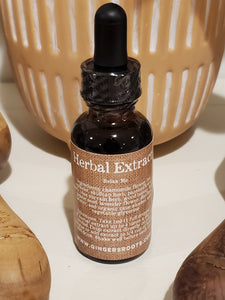 A blend of nerve relaxing and lightly sedative herbs to calm the mind and racing thoughts. 
Ingredients: chamomile flowers, oat spikelets, skullcap herb, passionflower herb, blue vervain herb, wood betony herb, jujube seed, lavender flower, distilled water, and organic cane alcohol. 
Directions: Take 1ml (1 full dropper) of liquid extract 4 times per day as needed. And extract to 1/4 cup of water and drink or drop the extract directly on your tongue. Shake well before each use.