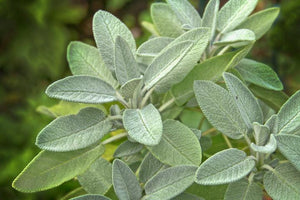 Sage, Salvia officinalis, can be helpful for colds and fever, especially those involving intermittent chills and fever, hoarseness, or sweating at night. It is best taken as a cool tea for night sweats and as a hot tea to induce perspiration. The tea may be used for sore or hoarse throat and laryngitis and as a mouthwash or gargle for irritation of the throat or mouth. The tea is a nerve tonic, increasing the capacity to handle stress. Sage is antiseptic, used topically to prevent infections and inflammation in wounds.
Not recommended as a medicinal herb during pregnancy. Sage will dry up breast milk, so it should be avoided by nursing mothers.
This can be taken as an infusion, tincture, glycerite, or capsule.