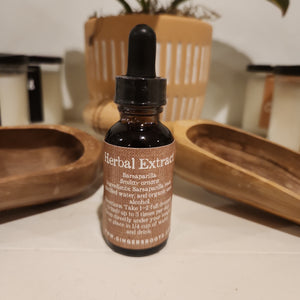 Sarsaparilla, Smilax ornata., is the major flavoring found in old-fashioned root beer. It is a mild bittersweet herb used for strengthening the liver, purifying the blood, and balancing the glands. It helps relieve arthritic pains and clear skin and scalp conditions. It has a hormonal balancing action, possibly due to its action on gut bacteria.
Suggested Use:

 

As a dietary supplement, take 1-2 ml (1-2 full droppers) up to three times a day (unless otherwise directed) in a small amount of water, or drop directly under the tongue.  
Ingredients: Sarsaparilla root, organic cane alcohol, and distilled water.
Warnings:
Keep out of reach of children. 
Th
ese
 statements have not been evaluated by the Food and Drug Administration. This product is not intended to diagnose, treat, cure, or prevent any disease. For educational purposes only.
*Not available to ship internationally.