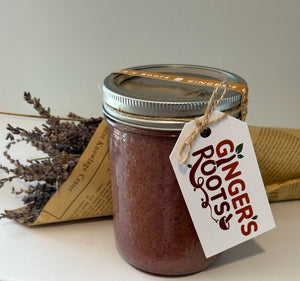 An extra immune-boosting blend of sea moss with elderberry and honey. Sea moss is a bountiful source of minerals to help the body thrive during cold and flu season. Elderberry is an anti-inflammatory that helps to stop the spread of a viral infection.  Honey is a powerful anti-bacterial to help fight bacterial infections, soothe the throat, and slow down coughs. 
Ingredients: sea moss, elderberry, ginger root, cinnamon bark, yarrow flower, raw honey, and spring water 
Suggested use: Take a minimum of 2 tablespoons per day. The gel can be taken directly by mouth, or blended into a smoothie, or dissolved into a cup of warm tea.
Keep refrigerated. The sea moss jar is good in the refrigerator for up to four weeks from the packaged date which is displayed on the jar. Unused portions can be frozen in a freezer-safe container for up to a year. 
This statement has not been evaluated by the Food and Drug Administration. This product is not intended to diagnose, treat, cure, or prevent any disease.