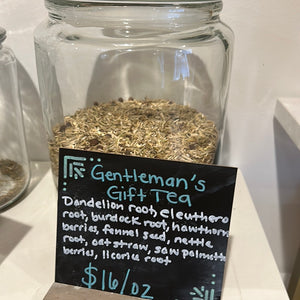 Sweet and sunny aroma with a lively and uplifting linger, and an initially bold, earthy flavor with a honey-like finish.
Ingredients
Organic dandelion root, organic eleuthero root, organic burdock root, organic marshmallow root, organic hawthorn berries, organic fennel seed, organic nettle root, organic oatstraw, organic saw palmetto berry, and organic licorice root.
Brew Instructions
Fill 1 tablespoon of tea in a cloth tea bag or mesh basket and place in your favorite mug. Pour 8 ounces of boiling water over the tea and allow to steep for 3-5 minutes or until desired strength is reached. This tea can also be simmered gently in a saucepan for 10-12 minutes for a stronger decoction.
Precautions
Not for use in pregnancy except under the supervision of a qualified healthcare practitioner. Not for use in persons with hypertension, liver disorders, edema, severe kidney insufficiency, low blood potassium, or heart disease. Please note that Hawthorn Berries will sometimes develop a white film on the berry. This is natural sucrose maturing in the outer skin. Processed in a facility that also produces tree nuts. Tree nut fragments may be occasionally present,