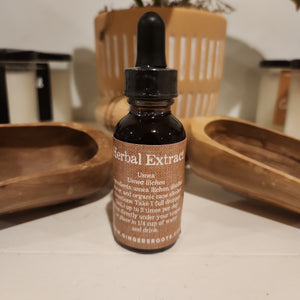 Usnea, tillandsia usneoides, is a lichen or a symbiotic combination of algae and fungi used to heal a variety of conditions. Its antibiotic and antifungal properties may be helpful for gastrointestinal infections, sore throats, and urinary tract infections. It's also a useful antibacterial for the mouth to promote oral hygiene. 
Suggested Use:

 

As a dietary supplement, take 1 ml (1 full dropper) up to three times a day (unless otherwise directed) in a small amount of water, or drop directly under the tongue.  
Ingredients: Usnea llichen, organic cane alcohol, and distilled water.
Warnings:
Keep out of reach of children. 
Th
ese
 statements have not been evaluated by the Food and Drug Administration. This product is not intended to diagnose, treat, cure, or prevent any disease. For educational purposes only.
*Not available to ship internationally.